Pot Luck Paté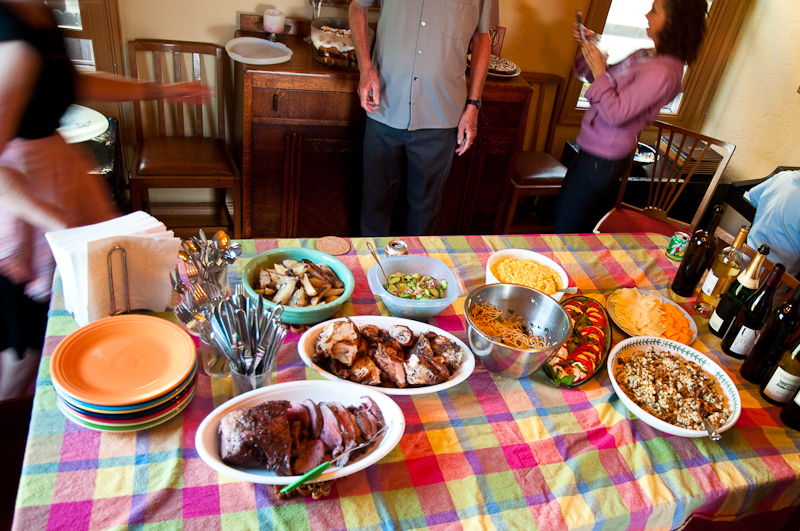 It was our turn to host a little foodie group that has been getting together for potlucks for the past year to share wine and recipes. The core group is made up parents of a gang of boys who were in kindergarten together and now mostly in cub scouts together.
I decided I'd make leg of lamb, which, since we don't eat mammal much at our house, I had not tried in a long time. And also, since we don't eat mammal (much) at our house, I thought I make a couple chickens also.
I checked prices on lamb at a couple places. I ended up getting a six pound boned leg at Costco. I think this was a mistake. In the first place, it was not THAT much cheaper. I might have got the same kind of price, about $5 per pound, at Trader Joes or even Safeway. More significantly, this Australian lamb was not as tender as I would have liked. And I was careful not to overcook it, so I know that was not the problem. I should have gone back to the wholesaler near my work and purchased the $9/lb local stuff. Next time.
Then I went to Magnani's, the local North Berkeley poultry shop to get a chicken or two. I ended up getting the usual Fulton Farms birds and had them butterflied. While I was there, this tub of chicken livers started whispering, "take me home, take me home, make paté,…" What could I do? I had to buy a pound of chicken livers.
Well, now I had a few things to make. So the night before, I started marinating everything. I used basically the same kind of marinade for the lamb and for the chickens: lots of lemon juice, greek oregano, rosemary, garlic, salt, pepper, olive oil, and a cup of red wine, Folie a Duex's Menage a Trois. Getting those trimmed, marinating, and back into fridge didn't take too long.
So, why not make paté, too? That's the kind of thing, I think, that benefits from being made the day before and letting the flavors blend. Well, I went through various cook books to find a recipe I'd made before. I consulted a stack of books, The Joy of Cooking, Julia Child, all the Silver Palate cookbooks, a New York Times Cookbook, etc. I easily ruled out anything that involved lining a terrine with pork fat or bacon and covering with aspic. I didn't have the ingredients or inclination for that. Yet, I couldn't quite decide on which recipe to make. None seemed to perfectly match the vague concept of paté floating around in my head. So, I sort of combined a couple and made something up. Someone asked about the recipe. So, here, as best I can remember, is what happened while bouncing back and forth between books while cooking this up. Ironically, it probably came out best of all the things I made.
1 stick butter
3 Tbls butter
2 small celery ribs with leaves
6 whole peppercorns
1 bay leaf
6 cups water
1 tsp salt
2 large shallots finely chopped
1 clove garlic, finely minced
1 small golden delicious apple, peeled, cored, grated.
1 lb chicken livers, rinsed and patted dry
1 boneless, skinless chicken thigh, rinsed and patted dry
salt and freshly ground pepper
tiny pinch of cayenne pepper
2 tsp dry mustard
1/2 tsp ground nutmeg
1/4 tsp ground cloves
1/4 cup calvados
2 Tbls heavy cream
1/3 cup dried currants
Cut the stick of butter into small pieces about 1/2 inch big, and spread them out on a plate, and place them in the freezer.
Add celery, peppercorns, and bay leaf to 6 cups water in a saucepan. Add 1 tsp salt and bring to a boil. Reduce heat and simmer for 10 minutes. While that's simmering…
Melt 2 Tbls butter in a large skillet over medium-low heat. Add the shallots and cook until quite soft, about 4 minutes. Add the garlic and cook, stirring, 1 minute. Add the apple and stir constantly until softened, about 3 minutes. Remove all to the bowl of a food processor fitted with a steel blade. Back to the water…
Add the chicken livers to the water and simmer gently for about 10 minutes; livers should still be slightly pink inside. While they're simmering…
Melt the last Tbl  butter in the same skillet that had the shallots and apple. Add the chicken thigh, season with salt and pepper, and sauté on medium heat about 3 minutes each side, until lightly browned and just cooked through. Add the thigh to the apple mixture in the food processor. Add the calvados to the skillet and deglaze, stirring and scrapping any bits stuck to the pan with wooden spoon. Tip the pan to catch the flame and burn off the alcohol (use a match if cooking on an electric stove). When the flame goes out, pour it all into the food processor with the other ingredients.
Remove the chicken livers from water and add to the food processor, discarding the water, celery and other things. Add the cayenne,  mustard, nutmeg, cloves, and cream to the mixture. Start processing and, with the machine running, add the cold butter pieces one at a time down the feed tube. Pause to taste and add salt or pepper if necessary. When all the butter is incorporated and the mixture is silky smooth, scrape it into a crock or bowl  and gently mix in the dried currants.
Smooth the top with a spatula. Cover by pressing plastic wrap directly on to the surface of the paté. Refrigerate until firm, at least 2 hours, or overnight if possible. Let stand at room temperature for 30 minutes before serving.
Serve with thinly sliced baguette, toasts, or crackers. Of course, cornichons, onion marmalade, and other such condiments are fine accompaniments.